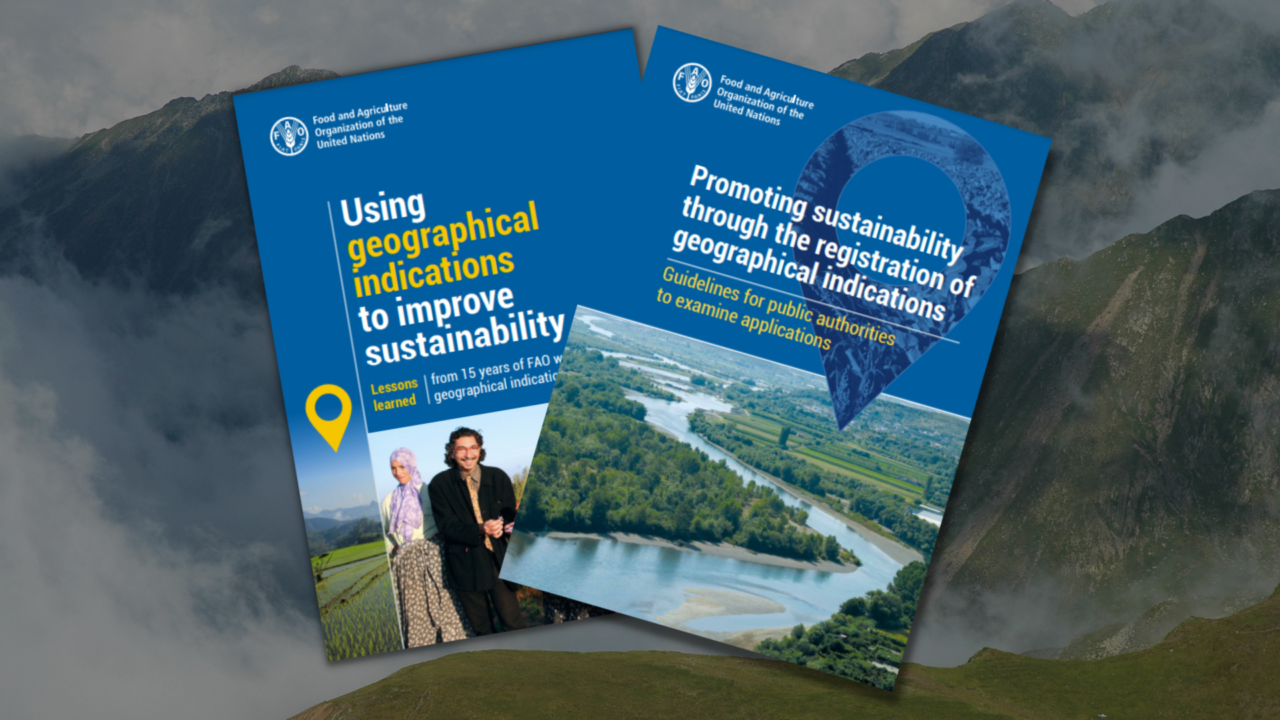 Geographical Indications (GIs) can serve as a significant lever to strengthen sustainable food systems and local sustainability. Indeed, GIs can contribute to sustainability in various areas, including nutrition, environmental preservation, biodiversity conservation, and social benefits for vulnerable populations.
In all these areas, local stakeholders are best placed to identify local resources and issues to be addressed, as well as to guarantee the sustainability of GI systems in the long-term.
This is one of the main axis of the work that the Food and Agriculture Organization of the United Nations (FAO) has been carrying out on GIs since 2007, with the intention to gather evidence and formulate best practices regarding the contribution of GIs to sustainability.
Against this background, building on lessons learnt from technical assistance projects, consultations with stakeholders across the globe and scientific expertise, the FAO has recently published two key resources:
Policy brief to build trust
This policy brief highlights the significance of participatory processes, crucial to build trust among value chain stakeholders, fostering collective action, and placing local communities at the core of GIs development.
Additionally, FAO emphasises the pivotal stage of the definition of GI product specifications, which represent a powerful tool to acknowledge and further develop the sustainability potential of GIs, as well as to enforce place-based measures.
To promote the provision and preservation of public goods through GI processes, sound policy and legal frameworks and specific policy support are key. As a result, the brief provides recommendations for increased involvement of public institutions in the development of GIs, which should serve as support to local ownership in the definition and management of the GI system.
Guidelines for public authorities to examine GI applications
Linked to the importance of the definition of GI product specifications, this publication intends to provide support to public authorities and experts involved in examining GI applications. It offers examples and recommendations related to the procedures for the examination of GI requests.
As a matter of fact, public authorities play a crucial role in assessing GI registration as this may influence the favourable conditions for the effectiveness and sustainability performance of the GI system.
The guidelines focus on both legal criteria for registration (linked to origin) and additional criteria that enhance the sustainability of the GI system. Additionally, it offers a list of questions to guide examiners along the examination process.
In parallel with these FAO publications, the MOVING project organised last year its second EU MAP webinar, focused on the European quality schemes and their added value for mountain value chains. The webinar provided valuable insights and discussions on this topic. Recordings, presentations, and a highlights report from the event are available on the event page.