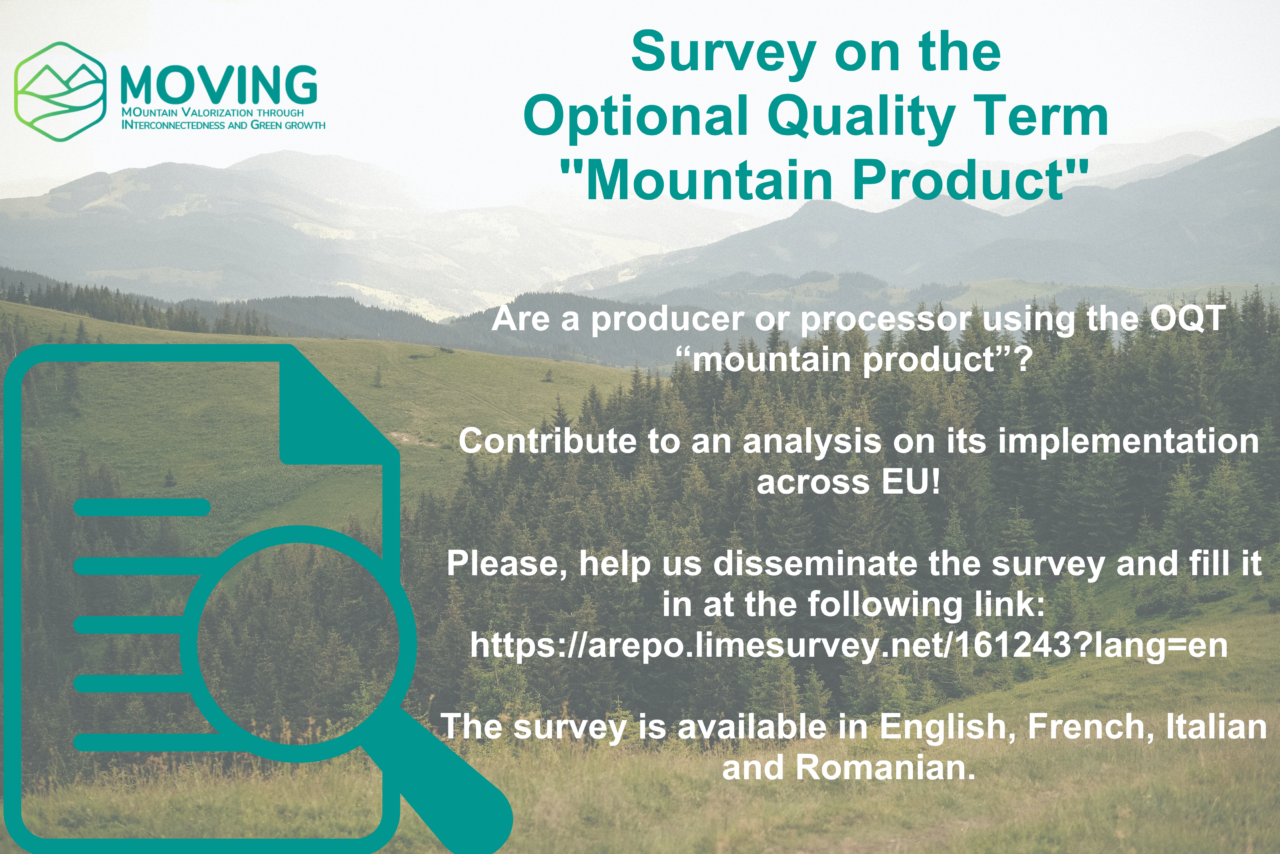 If you are a producer or processor using the Optional Quality Term (OQT) "mountain product", we need your help filling this survey!
As part of MOVING research, the Association of European Region for Products of Origin (AREPO) in close collaboration with the European Association of Mountain Areas (Euromontana) and Highclere Consulting (HCC) has launched a survey aiming at collecting information on the implementation of the OQT, in order to elaborate an analysis of the impact of this quality scheme across the EU.
Euromontana has monitored the implementation of the OQT "mountain product" since 2016, with the publication of a periodic report, last updated in 2020. As highlighted by Euromontana Director during the MOVING EU MAP webinar "European Quality schemes: the added value for mountain value chains", further research is needed to understand the actual impact of this quality scheme on mountain producers and processors and local economies (click here to read the presentation).
In order to support Euromontana with the next update of the report on the OQT "mountain product", MOVING survey tries to assess the following aspects:
Its impact in terms of revenues for farmers;
Have the expected advantages of this scheme been realised?
The impact at the territorial level: Does it represent an incentive to relocate or develop value chains in mountain areas to comply with OQT geographical criteria?
Complementarity or overlap of the OQT with other quality schemes: is it used as a standalone quality term or together with other quality terms?
If you are a producer or processor using the OQT "mountain product" and want to contribute to this analysis, please help us disseminate the survey and fill it in at the following link: https://arepo.limesurvey.net/161243?lang=en
The survey is available in English, French, Italian and Romanian.
This work is part of MOVING, a 4-year research and innovation project funded by the EU Horizon 2020 programme and involving 23 partners from 15 countries. The project has multiple aims including delivering recommendations and a 'road map' for the updating/modernisation of relevant policy instruments to help build more resilient mountain value chains for private and public goods.
---

MOVING receives funding from the European Union's Horizon 2020 research and innovation programme under grant agreement No. 862739.
The contents of this article do not reflect the official opinion of the European Union. The responsibility for the information and opinions expressed in it lies entirely with the author(s).