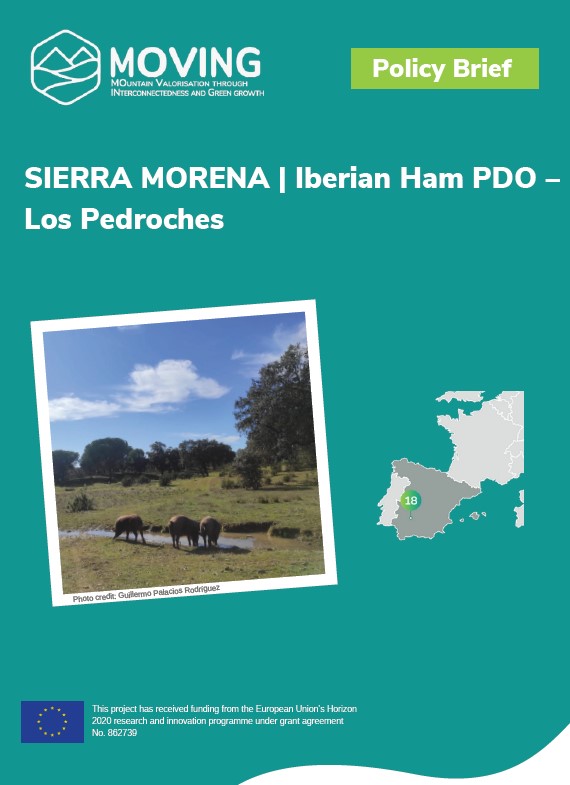 Based on the 23 Reference Mountain Regions where the H2020 project is rolling-out its research activities and actions engaging relevant stakeholders through Multi-Actor Platforms (MAPs), MOVING published in the first half of 2022 the first set of individual Policy Briefs.
These documents, focusing on different types of value chains (meat, cheese, honey, wine, crops, ecc…), present the Mountain Reference Region (MRR), the value chain (VC) contribution to sustainability and resilience of the region, some innovation components of the VC and a set of policy recommendations tailored to the specific characteristics of each of the mountain regions. Some of them are dedicated to PDO value chains, like the Iberian Ham PDO – Los Pedroches.
Iberian Ham PDO – Los Pedroches
In the Sierra Morena Reference Region (Andalusia) MOVING chose to analyse the Iberian Ham PDO – Los Pedroches value chain.
The Iberian pig breeding has historically characterised the social-ecological system of dehesa, a savannah-like pasture that is the result of prolonged human action that creates a multi-functional agrosilvopastoral system where agriculture, forestry and grazing are combined in a sustainable manner (Bélair et al., 2010).
Dehesa has positive connotations, being associated with animal welfare, a scenic landscape, sustainability, and collective identity. So, several products of the dehesa (including the Iberian ham) use this element as a marketing strategy to promote the quality of the product. Iberian PDO certification ensures a series of features related to the livestock loads on the farms and the pig's genetic breed.
Iberian ham has so far played a key role in the resilience and sustainability of the dehesa. Its profitability has been key in keeping alive the related traditional practices and in grounding the population to the territory. However, at the same time, the profitability of Iberian ham has led to an increased grazing intensity in the region, which is now one of the factors affecting the sustainability of this landscape. Beside the overexploitation of the resources, dehesa is currently facing additional problems such as climate change, poor regeneration of its typical vegetation, and the lack of generational replacement.
As a result, the main aim of the analysis of this value chain is to elaborate policy recommendations that can guarantee a resilience and sustainable future for the region.
Download the policy brief on the right to read the policy relevant considerations.
The complete list of Policy Briefs is available in the library section of the MOVING website.
Subscribe to MOVING newsletter, to stay up to date on MOVING activities and research!